---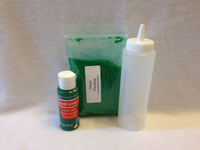 Each kit comes with 1oz Flock - 2 Ounce Color Matched Acrylic Paint/Adhesive - Applicator

Give Your Project the Soft Velvety Look and Feel! Easy to use, If you can brush on paint you can flock your project.

Uses include but not limited to, jewelry boxes, vehicle dash boards, bottoms of lamps, bowls or other items that may scratch delicate finishes.


Flocking Unlimited has 50 colors of rayon fibers available.

Safe – Easy To Use – 1 Ounce Kit Covers 3 sq ft.